How can I prepare for the NEET 2023 as I have no preparation for 2022?
At least start your preparation. It's never too late to start. Start studying in perfect time table and strategy.first complete your notes and other study stuff and then start your revision part as per your mentor. In your phase mentorship become very necessary as you won't be that experienced to handle the current situation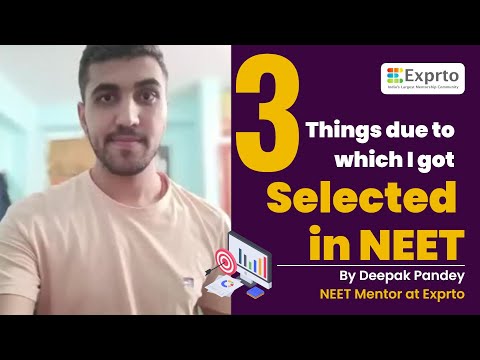 In this video, we'll go over 3 tips that will guarantee your success on the NEET exam. From studying smart to staying motivated, these tips will help you crack the NEET exam and achieve your dreams!
Don't miss out on this important video – it's worth your time to learn about the 3 best strategies for cracking the NEET exam! By following these tips, you'll be guaranteed a successful result – so don't wait any longer!

𝐀𝐛𝐨𝐮𝐭 𝐭𝐡𝐞 𝐌𝐞𝐧𝐭𝐨𝐫 𝐢𝐧 𝐭𝐡𝐞 𝐕𝐢𝐝𝐞𝐨:
Name: Deepak Pandey
Qualification: VARDHMAN MAHAVIR MEDICAL COLLEGE (SAFDARJUNG HOSPITAL) DELHI
AIR: 2312
Time Management. …
Prepare Revision Notes. …
Solve Previous Years Question Papers. …
Never Cram Before the Exam. …
Don't panic! …
Write neat, Present well. …
Revise within 24 hours. …
Shift between Subject Categories
![images (88)|658x466]